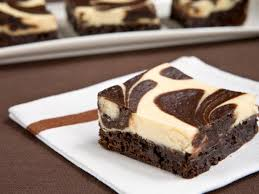 ____Ingredients_____
For the Brownies:
1 and 1/4 sticks unsalted butter 140g, melted
1 and 1/4 cups granulated sugar 250g
3/4 cup cocoa powder 75g
1/4 teaspoon salt
1 teaspoon vanilla extract
2 large eggs cold
1/2 cup plain/all-purpose flour 60g
For the Cheesecake:
2 and 1/4 cups full fat cream cheese 500g, softened
1/2 cup caster/granulated sugar 100g
1 large egg room temperature
2 teaspoons vanilla extract
1/4 cup plain/all-purpose flour 30g
____Instructions____
For the Brownies
Preheat the oven to 180C/350F/Gas 4. Line the bottom and sides of an 8x8" baking pan with aluminium foil, leaving an overhang on two opposite sides. Set aside.
Whisk together the butter, sugar, salt, and cocoa powder. Stir in the vanilla extract, then mix in the eggs, one at a time. Fold in the flour until fully incorporated, beating until thick and shiny, about 40 - 50 strokes.
Reserve 1/4 cup of the batter, and set aside. Pour the remaining batter into the prepared pan, and spread out evenly. Bake for 15 - 20 minutes, or until the centre of the brownies is mostly set. Allow to cool in the pan on a wire rack whilst preparing the cheesecake.
For the Cheesecake:
Using a handheld or stand mixer fitted with the paddle attachment, beat the cream cheese and sugar until combined. Beat in the egg, then fold in the vanilla extract, and flour.
Pour the mixture over the brownie layer and spread out evenly. Spoon the reserved brownie batter on top, and using a toothpick, create swirls.
Bake for 20 - 30 minutes or until the cheesecake centre is almost set, but still a little jiggly. Allow to cool to room temperature, then refrigerate for 4 - 5 hours. Cut into bars, and serve.
Notes:
You can store the brownies in an airtight container in the fridge for up to a week, or freeze them for up to 2 – 3 months. Thaw overnight in the fridge before serving.