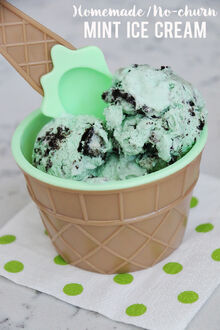 This is a recipe on how to make Mint Oreo Ice-Cream.
Ingredients
2 cups heavy cream
2 cups 2% milk
1 cup granulated sugar
½ tsp salt
1 tsp vanilla extract
1 tsp mint extract
2-3 drops green food coloring, if desired
1 cup crushed Oreos (about 6-8 cookies)
Instructions
In a large bowl, whisk together heavy cream, milk, sugar, salt, vanilla, and mint extract until combined.
Stir in food coloring, if using.
Pour the mixture into your ice cream maker and follow manufacturer's instructions, likely running for about 20 minutes. Add crushed Oreos to ice cream when it's almost done processing.
Transfer ice cream to containers and freeze for at least 4 hours before serving.
Enjoy!!!