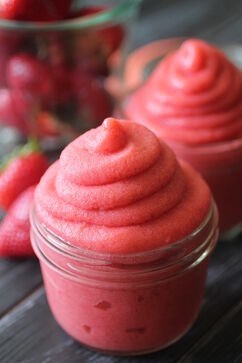 This Recipe is on how to make a Strawberry dole whip
____Ingredients____
4 cup of Frozen strawberries, sliced
1/2 cup of Unsweetened almond milk (or milk of choice)
1-2 tbs of Sweetener of choice (or to taste)
1 tbs of Lemon juice
Pinch of Salt
____Method____
The estimated total time to make this recipe is 1-5 Minutes.
Combine all of the ingredients in a blender and blend until smooth. Scoop into a plastic bag and freeze for about 10 minutes. Cut a hole in the corner of the bag and squeeze while swirling dole whip into a small bowl or cup.Enjoy!
Notes:
The great thing about this recipe is you can leave it in your freezer, and it never gets too frozen! It always stays the perfect consistency, almost like a cross between a slurpee and frozen yogurt!